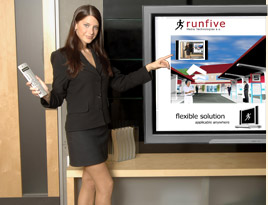 advertising networks ePOPs
The RUN FIVE Media Technologies joint stock company is currently building the own network of advertising large screens ePOPs in Czech and Slovak republics. You are going to see our screens very soon in the public places all over Czech and Slovak republics.
What are ePOPs advertising networks?
Large screens network in the public places ( restaurants, gas stations….)
Entertaining, advertising and information TV facility
On-line TV channel with interactive elements - IPTV, SMS
User-targeted and structured broadcasting scheme
Check out our website to find out more soon….

Company profile
|
Advertising networks
|
Technologies
|
Consulting
|
Content aggregation
© 2006

Media Technologies a.s. All rigts reserved.